Photo : African Development Bank

Report by Malaysia International Islamic Financial Centre
Islamic Finance in Africa: Impetus for Growth
Many market development and regulatory efforts have taken place in the African region in recent years as there is a clear set of potentials for Islamic finance to play a role in African countries to diversify their sources of funding.
As the world's largest untapped growth market for Islamic economy, Africa is expected to attract more Islamic finance players in the future to support the governments' need for raising capital for infrastructure, improve financial inclusion and stimulate economic activities in the region.
The Rise of Islamic Finance in Africa
Islamic finance development has become a centrepiece in many countries in the African region. A number of market development and regulatory efforts have taken place in the region in recent years. Nigeria, Sudan, South Africa and Senegal, Kenya, Morocco and Niger among others have put in place necessary legal and regulatory frameworks to enable Islamic banking offerings in their respective jurisdictions. There are more than 50 Islamic financial institutions in Africa out of 600 institutions globally.
Many conventional banks across the continent including National Bank of Egypt, FinBank of Nigeria, Absa Bank of South Africa or First Community Bank of Kenya have also started to offer Shariah-compliant banking products through Islamic window set-up. In the sukuk segment, countries in the likes of Senegal, Nigeria, Mauritius, Gambia have issued sukuk whilst Morocco is planning their sukuk debut this year. A recent milestone in this space is the maiden sukuk issuance by the Africa Finance Corporation, a leading pan-African multilateral development finance institution. The transaction was upsized to USD150 million from its initial target of USD100 million with final order book of around USD230 million.
Islamic finance global momentum
Islamic finance development in Africa region is in tandem with the emerging interest of Islamic finance globally. Based on the current growth momentum of the global Islamic finance, the global Islamic financial services industry is estimated to reach USD6 trillion in assets by the year 2020 with a growing number of new market entrants. Islamic finance industry has been progressing rapidly since its inception nearly four decades ago.
The industry, particularly in advanced Islamic finance markets, witnessed rapid growth and sustainable market drives enabling the system to be commercially viable and competitive industry to operate in parallel with the conventional financial system. Malaysia as a case in point, the corporate sukuk has outpaced the corporate bond whereby corporate sukuk issuance was RM64.8 billion, 75.7% of the 2016 total corporate bonds and sukuk issuances in the country.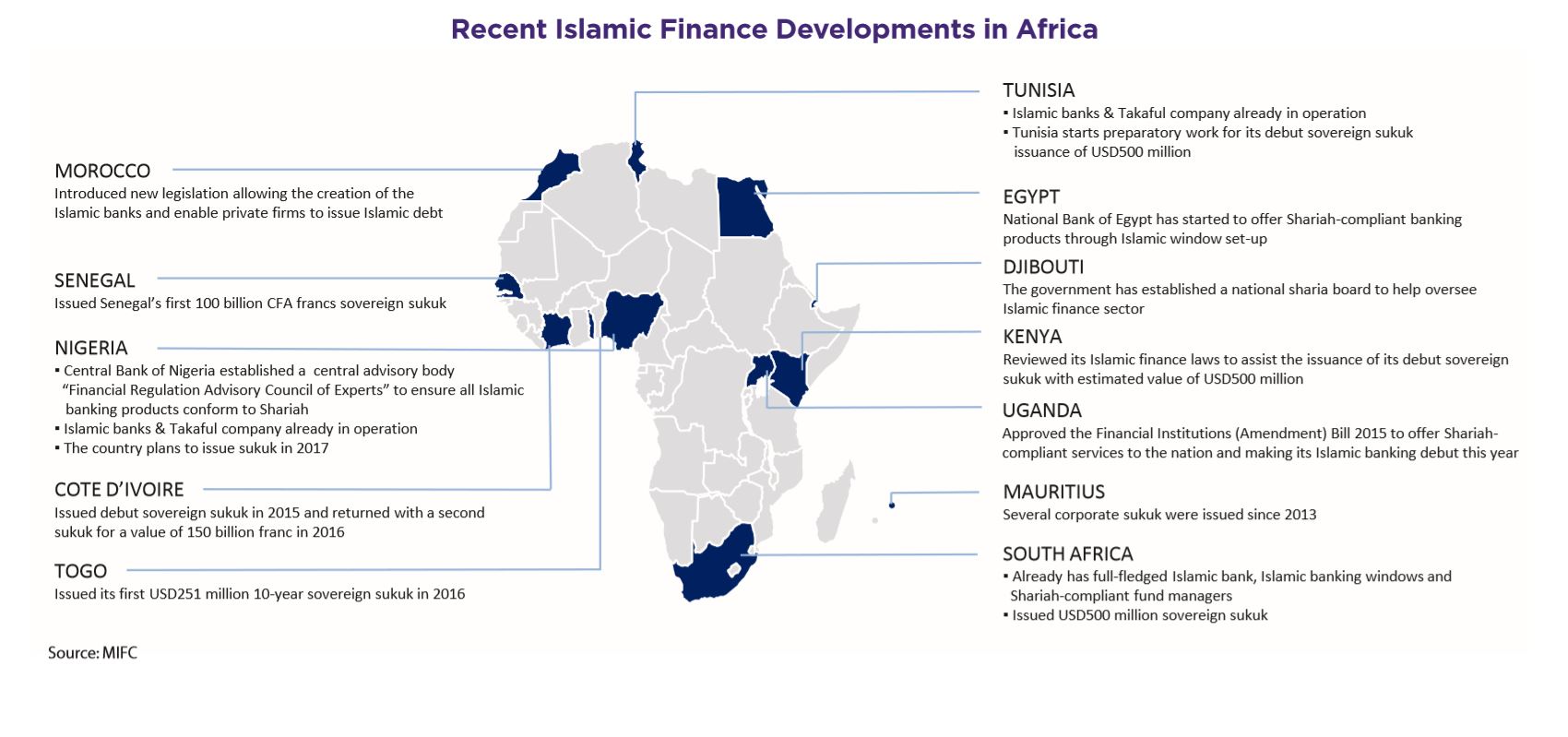 Islamic Finance: Unlocking Africa's Untapped Potential
Finance development in Africa has an important role in unlocking the region's untapped potential in various sectors in order to boost its prosperity. The growth of Islamic finance will provide the region access to enrich offerings of its financial instruments and also provide the opportunity to greater access of liquidity pools across the Middle East and Asia particularly from markets with ready pool of investors looking for Shariah-compliant investment opportunities.
Africa has almost 60% of the world's uncultivated land and vast natural resources. Sub-Saharan Africa for example, the region is endowed with large oil, gas and mineral deposits. Home to over 1.2 billion population, Africa is currently the second most populous continent on earth and the total population is expected to double by the year 2050. The growing population provides an excessive demand on local economies including a ready market for agricultural business and has the potential to expand its food exports. Natural and economic resources mobilisation as well as economic diversification activities are among the drives to improve the economic growth the region.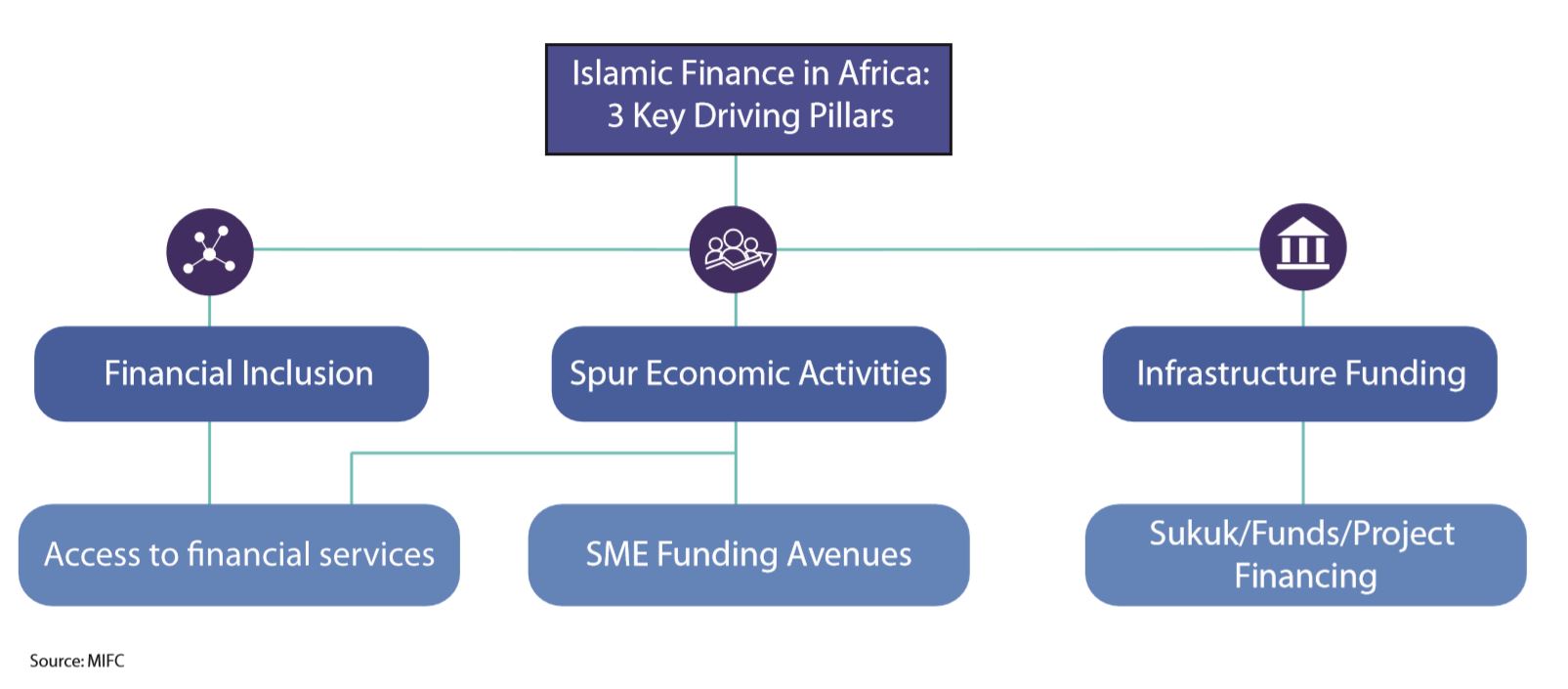 Download Report from MIFC

 Islamic Finance in Africa – Impetus for Growth (3.7mb)