Increasing the Potential of Islamic Finance in Africa
CNBC Africa discussed the growth potential of Islamic Finance in Africa. Samira Mensah, Associate Director for Financial Institutions Ratings at Standard and Poor's and Ameen Hassen, Head of Shari'ah Banking at Standard Bank participated in a discussion which highlighted the growth space for Islamic finance in Africa.
Demand within the SME sector on the continent as well as demographics to provide greater financial inclusion were discussed as long-term drivers to boost the Islamic finance footprint in Africa. Relatively weak economic outlooks, the complexity of issuing Sukuk as compared to conventional bonds as well as a lack of a level playing field in regulatory and tax regimes were highlighted as challenges which may damper growth in the short to medium term.
Sovereign sukuk issuances have expanded in Africa where a trio of West African nations, Togo, Ivory Coast and Senegal issued domestically denominated CFA francs sukuk during the summer.
IMF Report – Financial Development in Sub-Saharan Africa
In a recent report entitled "Financial Development in Sub-Saharan Africa – Promoting Inclusive and Sustainable Growth" the IMF included a section on the use of Islamic finance within the Sub-Saharan region.
Over the past two decades, the share of Islamic finance has remained low in sub-Saharan Africa. Islamic financial products took up only about 15 percent of total financial assets in sub-Saharan
Africa at the end of 2014, and the region accounts for only 1 percent of global Islamic finance assets.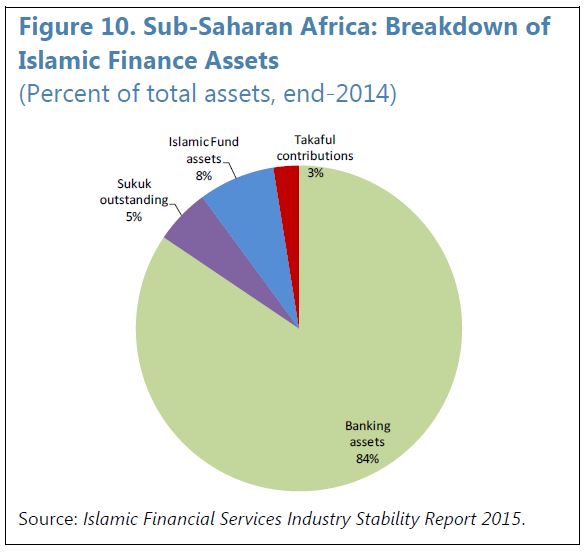 The relatively small size of Islamic finance compared with conventional finance points to great growth potential. Moreover, it appears that there is a negative correlation between financial inclusion and the size of the Muslim population. In this context, Islamic finance is particularly expected to increase access to financial services for Muslim populations currently underserviced by conventional finance—only 24 percent of Muslims have a bank account compared with 44 percent for non-Muslims (Demirguc-Kunt, Klapper, and Randall 2013).
Recent empirical work indicates that Islamic banking is conducive to economic growth and financial inclusion in low- and middle-income countries, including in sub-Saharan Africa (Imam and Kpodar 2015; Kammer and others 2015).
Nonetheless, Islamic finance poses particular challenges in terms of regulation, supervision, and monetary policy owing to the specific feature of its transactions. For example, the regulation and supervision frameworks should take into consideration Islamic finance specificities such as profit-sharing investment accounts and Shari'ah governance.
Download Full Report


  IMF – Financial Development in Sub-Saharan Africa (2.38MB)