Mudaraba Contract
Mudaraba is a contract of participation, a partnership where capital is provided, in cash or assets (no debt is accepted) by one party – the fund provider – and labour is provided by the other party – mudarib. Both parties agree in advance to the percentage profit to be received by the bank.
As mudaraba is a trust-based contracts, the mudarib is not liable for losses except in case of breach of the requirements of trust or misconduct. Guarantees against negligence or misconduct could be taken from the mudarib as long as they are not excessively used by the capital provider. The contract should specify indicate the distribution ratio of profit between both parties (which cannot be a lump sum or a percentage of capital). The distribution ratio could be revised at future dates by agreement of both parties.
Mudaraba Usage in Middle Age Europe
During the age of the Islamic Civilization Italian merchants doing business in the Middle East used the mudarabah partnership, which facilitated its spread into Europe, where it came to be known as commenda [1].
Mudaraba structure used in Sukuk
In this structure, proceeds of the sukuk issuance are used by the issuer as capital to finance a business. Profit generated from the business is distributed in pre-agreed proportions between the entrepreneur and the issuer, the latter of which will form the periodic payments to the sukuk holders. At maturity or in the event of default, the entrepreneur will buy the issuer's participation interest in business enterprise, pursuant to the sale or purchase undertaking; the proceeds of this sale will be transferred to the sukuk holders.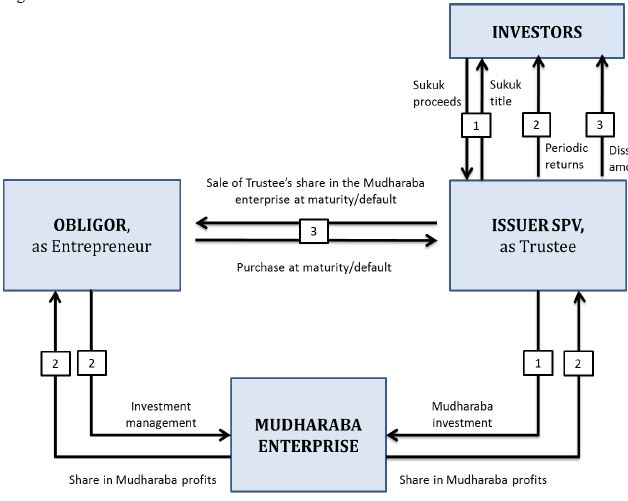 Further Reading
For a more detailed overview of this structure as used in Sukuk, please download Sukuk Guide of Dubai International Financial Centre  (3.7MB) or Shariah Resolutions 2nd Edition (2.3MB). Most computers will open PDF documents automatically, but you may need Adobe Reader.
Sources
Accounting and Auditing Organisation for Islamic Financial Institutions (2010), "Sharia Standards for Islamic Financial Institutions", Bahrain.
World Bank – Sukuk markets: A proposed approach for development.
[1] Economic Development and Islamic Finance, Zamir Iqbal and Abbas Mirakhor. World Bank Publication