Photo :
The Size of the Islamic Finance Market
Estimates of the current size of the Islamic Finance market range from $1.66 Trillion to $2.1 Trillion with expectations of market size to be $3.4 Trillion by end of 2018.
Based on $1.66 Trillion, Islamic Finance assets represented 1% of the global financial market of $127 Trillion in assets. To put this into context, $1.66 Trillion is about the size of the balance sheet assets of HSBC as of 2013.
Islamic Finance Per Assets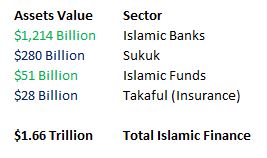 Other estimates have placed the size of the Islamic Finance market in terms of assets at $2.1 Trillion as of the end of 2014, with growth at a compounded annual growth rate (CAGR) of 17.3% between 2009 and 2014. [3]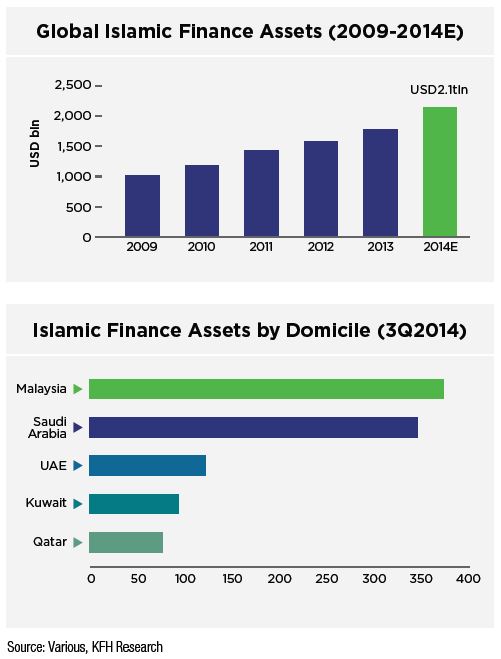 Ernst & Young, and the Malaysia Islamic Financial Centre predict the size of the market to hit $3.4 Trillion by end of 2018 [2], whilst PricewaterhouseCoopers predict a $2.7 trillion market by 2017 [1].
By country, Malaysia is the leading jurisdiction, followed by Saudi Arabia, UAE, Kuwait and Qatar.
[1] http://www.bloomberg.com/news/2014-04-15/jpmorgan-targeting-gulf-leaps-to-no-2-for-bonds-arab-credit.html
[2] http://www.bloomberg.com/news/2014-07-08/moody-s-shows-sharjah-coming-of-age-with-sukuk-islamic-finance.html
[3] http://www.islamicfinance.com/2015/01/2014-landmark-year-global-islamic-finance-industry-malaysia-international-islamic-financial-centre-mifc
Additional Sources
Al Rayan Bank
Thomson Reuters – State of Global Economy Report 2014-2015