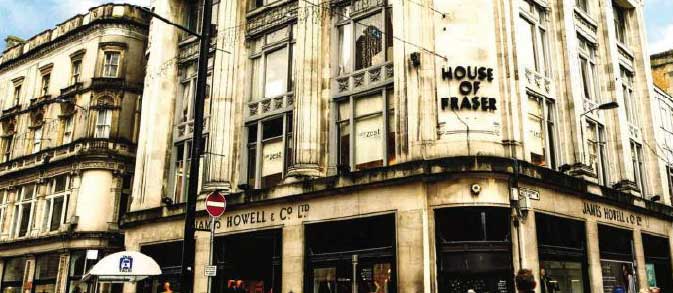 Photo : Rosette Merchant Bank
Off Market UK Islamic Finance Transaction
An iconic House of Fraser building in Cardiff, Wales has been acquired in an off-market purchase by Rosette Merchant Bank in partnership with Naissance Capital Real Estate from M&G Real Estate for £37m.
The purchase was made on behalf of Middle Eastern investors. Rosette's Chief Executive, Oliver Wynne-James said, "This deal demonstrates the ongoing appetite of Gulf-based investors to acquire prime real estate secured to globally recognised brands. The lease duration sees through the Brexit event and provides excellent income backed by deep value."
Naissance Capital Real Estate owner and CEO, Azeemeh Zaheer commented "We are pleased to be well positioned in the post BREXIT economy to take advantage of an opportunity to acquire and structure a transaction underpinned by strong real estate fundamentals in a historically low interest rate environment. Our clients have also benefited from a currency play and take a long term view on the UK economy."
New Sharia-compliant Bank Unit
This is the first acquisition made by Rosette Merchant Bank's new Sharia-compliant, structured products arm, and was led by Adam Cavanagh who handles real estate deals that involve complex structuring. It is Naissance Capital's second purchase since its launch in 2015.
Based in London, Rosette Merchant Bank is an independent, privately owned Sharia compliant financial services firm with close ties to Kuwait and the rest of the GCC states.